It is Tuesday Tag-Along and Follow Me BackTuesday time, which means it is time to get new friends and followers, and time to explore other blogs.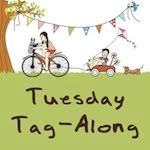 I would like to invite any new readers to Print Your Coupons - All Your Printable Coupons in one place. The printable coupons are organized by brand or type in alphabetical order, so they should be easy to find.
Today is the last day to enter the Print Your Coupons Launch Giveaway, so enter
HERE
to win an Amazon gift card.
If you don't know which coupons you are looking for, I suggest you check out the
HOT Coupon
tab to get started, or if you are in the mood for some
ice cream
check out the
Ice Cream
tab for all the Printable Ice Cream coupons available.
If you are a new follower from Tuesday Tag-Along or Follow Me Back Tuesday don't forget to leave a way for me to find you.