Welcome to Print Your Coupons, which just launched this past Friday. Since this is the launch week at Print Your Coupons, this is the first time Print Your Coupons is participating in Tuesday Tag-Along hosted by Twee Poppets, so I would like to welcome any new followers from Tuesday Tag-Along.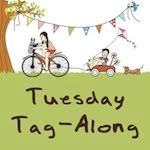 To all of my new followers, thank you for stopping by to follow. I am very excited to have you here, and I hope you will stop back whenever you need to find a coupon. Here at Print Your Coupons we have printable coupons for more than 300 different brands listed, and the list is growing every day.
I also want to invite all of you to participate in the
Amazon gift card giveaway
here at
Print Your Coupons
.
I hope that you will all leave a way for me to find my way back to follow you.
Happy Tuesday!!